PelletMasters Pellet Mills, Hammer Mills, and Fine Grinders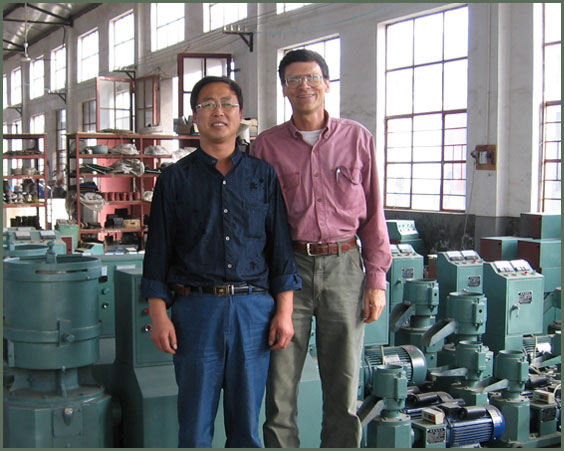 PelletMasters
has the largest in stock selection of
flat die pellet mills in North America
We have over 100 machines ready to ship from our warehouse in Chippewa Falls, Wisconsin.
Pellet Masters guarantees the
lowest delivered price always!
If you find a lower advertised price from a competitor,
with your machine in stock ready to ship, we will beat
that price by 11%. If you find a lower delivered price
from a "drop-shipper" competitor, who does not have
your machine in stock, please send us the quote
including shipping and we will beat it with similar
2-3 month delivery time and limited warranty.
We work hard to support our dealers
and never bid against them.
Please call or click on the

contact form

if there is something you are looking for.
PELLET MASTERS SPECIALS!



Pellet Mill/Hammer Mill Combination SPECIAL!




Buy a Pellet Mill and Hammer Mill together

and receive 10% off the cost of a Hammer Mill



American Rotary and Gentec visit Pellet Masters, a Wisconsin based company who
offers 20 different models of electric, diesel, and PTO driven pellet & hammer mills.
Pellet Masters shares how pellets are made and the numerous applications for pellet products.
Packaging and Delivery
Our machines are packaged securely to a strong plywood case with a pellet securely
fastened to the base for easy loading and unloading.
Industrial Machinery
These are industrial machines. They are internally wired up and ready to go, but are not wired up for
your specific power receptacle because of the many different options available. You will be able to
use whichever plug and receptacle you choose in accordance with the power required by the machine.
Warranty and Returns
We stand behind our products. If you ever have any problems, we are here to answer the phone.
We carry a large inventory of alternate and general maintenance replacement parts.
If for some reason you receive your machine and it isn't what you expected or you changed your mind,
leave it in the crate and send it back for a full refund less shipping costs both ways.
Be Careful and Follow All Safety Guidelines!
Pellet Masters in beautiful Chippewa Falls, Wisconsin.
We have an office and shop in downtown Chippewa and a warehouse a few miles away.
Chippewa Falls is also the home of the Leinenkugel Brewing Company and Cray Research Inc.
We have the largest in stock selection of flat die pellet mills in North America
with over 100 machines ready to ship from our warehouse in Chippewa Falls, Wisconsin.